Earlier today it was revealed that former Kazakh amateur sensation Daniyar Yeleussinov [Данияр Маратұлы Елеусінов] had signed a professional contract, with British promoter Eddie Hearn. Not only that but they have also scheduled his debut on April 28th in New York as part of the under-card for Daniel Jacobs v Maciej Sulecki, which will also feature rising Uzbek Shohjahon Ergashev (11-0, 11) [Шохжахон Эргашев].

As an amateur Yeleussinov was a genuine stand out, winning Gold at the 2013 World Amateur Championships, the 2016 Olympics, the 2010 and 2014 Asian games and and the 2013 and 2015 Asian Championships.

His addition to the Matchroom stable will see him fighting not only in the US, on the April 28th cardm but also in the UK with Eddie Hearn expecting the Kazakh to make his UK debut later this year. He's expected to be fast tracked to the top and could well find himself in the world title mix sooner rather than later.

At the moment the full details of his debut, such as opponent, distance and weight, haven't been announced but they are expected to be made public in the near future.

(Image courtesy of http://www.skysports.com)


---

Yesterday fight fans in the US had the chance to get their first real chance to see Uzbek prospect Shohjahon Ergashev (11-0, 11) [Шохжахон Эргашев], and he left an incredible impression as he stole the show and dominated Sonny Fredrickson (18-1, 12).

​From early on in the bout it looked Ergashev was out there to make a point and almost immediately had Fredickson on the back foot. The American was rocked early and it was clear that Ergashev wasn't there to play around. To his credit Fredrickson wasn't falling over and was showing he wanted to be there, but there was a huge gulf in class between the two men.

In round 2 Ergashev began mocking his foe, show boating continually between huge straight right hands and showing his confidence. The following round the Uzbek closed the show, hurting his man early and amping up the pressure until the referee jumped in and saved a staggered, and confused Fredrickson. It wasn't the best of stoppage, but the gulf in class between the two was very clear.

​

Earlier today it was revealed that Russian based Uzbek puncher Shohjahon Ergashev (6-0, 6) had signed a promotional deal with former world title challenger Dmitry Salita, and Salita's promotional outfit "Salita Promotions".

The promising 25 year old turned professional last year, debuting just days after his last birthday, and made an immediate impact with an opening round blow out win over fellow debutant Arzu Aliev. He has since added 5 wins this year, including 3 opening round blow outs one of which lasted just 16 seconds.

In the ring the youngster is an aggressive and exciting fighter who looks to set a fast pace in every fight, showing why he has scored 5 stoppages in the first 2 rounds. He does however need to face a better test than he has done so far for us to know just how good he is.

Hopefully Salita will manage to showcase Ergachev's ability in the US in the near future, and it seems likely that'll happen on a "Detriot Brawl" show, hopefully before the end of 2016. Saying that however there is no need to rush the youngster who has a lot of time to develop his skills and make a name for himself, potentially becoming the catalyst for the top Uzbek amateurs to follow him to the US and to become notable professionals.
Powered by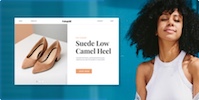 Create your own unique website with customizable templates.