Just moments ago we saw

2016 Olympic gold medal winner

Fazliddin Gaibnazarov (7-0, 4) [Фазлиддин Ғоибназаров], from Uzbekistan, kick off his 2019 as he stopped the durable US based Dominican, Ricardo Garcia (14-5-1, 9).

The Uzbek looked sharp from the opening round., though struggled to land clean, meaningful blows during the round, as Garcia managed to elude a lot of the more spiteful aggression from the Uzbek.

Sadly for Garcia Gaibnazarov began to find his range in round 2 and managed to drop Garcia in round 3, with the Dominican looking more and more outclassed by the round.

Garcia managed to have his best round in round 4, as he began to take a few more risks and make the most of Gaibnazarov's flaws, including the Uzbek's lack of a meaningful jab. Despite having some success Garcia would pull out between rounds 4 and 5, essentially admitting defeat before taking any more punishment.

Despite being out classed Garcia didn't seem to take much punishment and this ending was poor after what had been a limp effort from Garcia, who had given decent fights to the likes of Mykal Fox and Ladarius Miller.
Powered by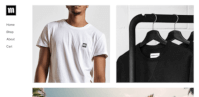 Create your own unique website with customizable templates.