Earlier today at the EDION Arena Osaka fight fans had the chance to see a new

WBO Asia Pacific Super Featherweight champion being crowned, as the heavy handed

Masao Nakamura

(25-3, 24) [仲村正男] faced off with under-rated Filipino

Carlo Magali (23-11-3, 12) for the vacant title. On paper this was an excellent match up, with styles that seemed to be made for an exciting bout, both men had been OPBF champions with flaws the other could take advantage of.

The opening round saw Nakamura, a hard hitting boxer-puncher, start well as he fought behind his jab and his movement, but Magali would amp up the pressure in round 2 and begin to push the tempo. Magali's pressure forced Nakamura to hold his feet occasionally, and he managed to have success doing that as well, landing a cracking upper uppercut in round 4. Magali, who has been stopped before, took it well and wasn't discouraged from his game plan, instead he was likely happy that Nakamura had began to stand still so early. In fact the following round Magali landed his own right hook which appeared to momentarily hurt Nakamura, though only momentarily.

Magali's toughness was tested in round 7, when he took a huge right hand that cut him around the eye, and stood his ground before coming back well in round 8 with hooks that forced Nakamura to think twice about taking extra risks looking for the finish.

Sadly for for Magali his limited defense, and relative slowness in comparison to Nakamura, saw him taking big shots that worsened the cut, with an uppercut in round 10 really doing damage to the wound. It was so bad that the referee took Magali to the ringside doctor, who halted the action, stopping the Filipino on a second check.

With the win Nakamura give his career a huge shot in the arm, and he possibly thinking of earning a rematch with WBO world champion

Masayuki Ito

, who took a decision over Nakamura back in 2014. For Magali however this is a second straight loss in Japan and a 4th stoppage defeat, he still has lots to give, but it does seem like his time at this level may be running out sooner rather than later.
Powered by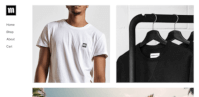 Create your own unique website with customizable templates.