Former Japanese amateur stand out Shu Utsuki (3-0, 2) [宇津木秀] extended his winning run earlier today with an impressive knockout against aggressive, and wild, Chinese foe Da Xu (3-1-1, 1).

​The opening moments saw Utsuki looking razor sharp behind his busy and accurate jab. Xu however showed no respect to the skills of Utsuki and got inside, making things messy as he worked the body up close. Xu seemed to realise quickly that his only chance was to get inside and take away the skills and speed of Utsuki and began wrestling, forcing Utsuki to the canvas several times. Although the action was messy Xu, to his credit, was landing some solid shots in the chaos, and it was clear he hadn't travelled to just roll and give Utsuki a win.

To begin round 2 Xu again brought the heat with wild shots that were thrown to disrupt Utsuki from using his skills. That had some success, but left Xu open and he was caught by a bomb about 70 seconds in. The shot sent Xu down, hard, and Xu seemingly had no idea where he was. Technically he got to his feet before the 10 count, but even being upright he didn't seem to have any control of his senses turning his back on the referee and Utsuki before the bout was waved off.

On paper this was a step up for Utsuki, and despite scoring his quickest win to date, he was given a genuine test from Xu, who clearly came to win. Xu was caught by a beauty but we'd love to see more of him. He looks like a nightmare to fight, throwing wild hayemakers that could well have beaten a lesser fighter than the very talented Utsuki.

Powered by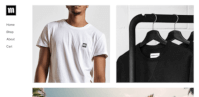 Create your own unique website with customizable templates.