The Light Heavyweight division is one which is very top heavy right now, but any of the top fighters would make for an excellent match up if put against each other, and it's incredibly hard to to define who is the #1 in the division, with 4 very strong claimants.

Oleksandr Gvozdyk (16-0, 13) - WBC Champion (0 defenses)

Unbeaten Ukrainian Oleksandr Gvozdyk is one of a number of talented fighters to have emerged from the excellent Ukrainian amateur system in recent years, such as

Vasiliy Lomachenko and Oleksandr Usyk. "The Nail" won the WBC title back in December, when he ended the long reign of Adonis Stevenson, and is set for his first defense in March. Gvodzdyk is talented, heavy handed and is a technical boxer-puncher who can keep a relatively high pace, especially for the division. At 31, and turning 32 in April, his reign might not be an incredibly long one, but he is certainly someone worth watching.

Sergey Kovalev (33-3-1, 28) - WBO Champion (0 defenses)

Heavy handed Russian Sergey Kovalev recently regained the WBO title, avenging a prior loss to Eleider Alvarez. The 35 year old "Krusher" is coming to the end of his career, but is still a very dangerous fighter and someone who has very solid power and criminally under-rated boxing ability. He's slipped form his best, and has shown mental cracks in recent years, but is still a very good boxer-puncher who looked better than he has last time out. At his best he put fear into opponents with his power, though now it seems likely that he will be looking to use that power as a weapon in his arsenal rather than as his key way to victory. If he can stay on the right track he could beat anyone in the division, but out of the ring issues may end up derailing his renaissance.

Dmitry Bivol (15-0, 11) - WBA Champion (4 defenses)

Unbeaten champion Dmitry Bivol, born in Kyrgyzstan though regarded as a Russian fighter, is the youngest of the champions and is arguably the most rounded. He's a busy, active boxer puncher, with stiff power on his shots. He's not heady handed as Kovalev, Gvozdyk or Artur Beterbiev, but he's more technically sounded, a better ring general and a smarter boxer with more wrinkles to his game. He does have areas to work on, and certainly needs to work on things still, but the 28 year is proving to be a very talented, rounded and fantastic fighter who could be the best in the division. With wins over Sullivan Barrera, Isaac Chilemba and Jean Pascal in 2018 he has a very impressive resume that seems to be getting better with every fight.

Artur Beterbiev (13-0, 13) - IBF Champion (1 defense)

Another hard hitter in the division is IBF champion Artur Beterbiev, another Russian who punches like a mule. Beterbiev won the title in late 2017 but has struggled through his career with activity, management, and competition. He's been a professional for close to 6 years but has only managed 13 contests in that time. He has changed his team a few times and has been avoided, making his career one of the most disappointing. At the age of 34 he doesn't have long left in his career, and yet has only had 47 rounds as a professional. As an amateur Beterbiev was a star but as a professional his career appears likely to end up being an underwhelming one. A shame, but a very dangerous shame.

Marcus Browne (23-0, 16) - WBA "interim" Champion (0 defenses)

American fighter Marcus Browne had been bubbling under the surface for a few years whilst compiling a solid, yet unspectacular record. This past January however he put himself firmly in the mix when he defeated Badou Jack to become the WBA "interim" champion. The 28 year old former amateur stand out struggled past

Radivoje Kalajdzic in April 2016 but sincee then has looked very good, beating not only Jack but also Sean Monaghan, Francy Ntetu and Thomas Williams Jr. He's the least accomplished amnd impressive of the top guys, but certainly appears to be developing well in recent bouts and could be the long term American hope of the division.

The final part of our look at the Super Middleweight division looks at the prospects emerging through the rankings. If you missed our earlier parts they can be read here:

The state of the Division - Super Middleweight - The Champions

and here:

​

The state of the Division - Super Middleweight - The Contenders

Vladimir Shishkin (8-0, 5)

Unbeaten Russian Vladimir Shishkin looks like he's going to be a fast tracked fighter at Super Middleweight, and that was clearly shown last year. The fighter turned professional in 2016 and took his time to get going, before stopping Siarhei Khamitski and Nadjib Mohammedi in 2018. He's heavy handed, talented and looks to be developing quickly, both in terms of his skills and his physical maturity. It's going to be very exciting to see what he does this year, and we wouldn't be surprised to see Shiskin in the world title mix by the end of 2019.

Zach Parker (17-0, 11)

Englishman prospect Zach Parker is world ranked but hasn't really shown that type of quality yet. Despite not appearing world class he has had some impressive wins, at least domestically, and scored his biggest win last November, when he narrowly outpointed Darryll Williams in Glasgow. He has shown promise, but there is still a lot left for the 24 year to improve on before he starts to think about a world title shot, no matter what he team maybe suggesting.

Nicolas Ezequiel Masseroni (17-0, 17)

It's hard to really know what unbeaten Argentinian Nicolas Ezequiel Masseroni has to offer. So far he has been destructive on the Argentinian domestic scene, taking out 17 opponents in a combined 22 rounds. Despite that the 26 year old is yet to face anyone with a pulse, and we suspect he, and his team, will be looking to pad those numbers a it more before getting him to step up. His 17 career bouts have included some fights on the road, with an early career contest in Uruguay and a couple in Mexico, but it is very hard to know what he really brings to the table.

Aidos Yerbossynuly (10-0, 8)

Kazakh boxing is on the rise, there is a lot of promise making it's self known as Gennady Golovkin sees his career coming to an end. Among those looking to make their mark on the sport is

Aidos Yerbossynuly. Despite only being a professional since October 2015 Yerbossynuly has already fought in Ukraine, Kazakhstan, USA and Russia, and looks like he is wanting to make a big mark on the sport. Sadly he has shown some issues with durability, having been dropped several times already, but has a fun and exciting style that should help lead him to pretty notable success in the years to come. Even if Yerbossynuly fails to reach the big time he will certainly give us some exciting fights.

D'Mitrius Ballard (19-0-0-1, 12)

25 year old American D'Mitrius Ballard has been a professional for 6 years and like many American fighters his progress was incredibly slow, especially early on. In 2017 however he did begin to show some interesting signs, beating Adrian Luna Flores and Jaime Solorio, before adding a win over Alan Campa in 2018. It's unclear what Ballard has, but as with many prospects it's going to be interesting to see his development from here, especially given that he's not in his mid 20's and can't afford to take a step backwards from his last few opponents.

Nurzat Sabirov (8-0, 7)

Canadian based Kazakh fighter Nurzat Sabirov is a 25 year old boxer-puncher who only turned professional in 2017 and has been kept active since then, fitting 8 fights into about 20 months. To date his competition hasn't been amazing, but he has beaten more experienced fighters, such as Guillermo Romero and Rocky Montoya. He has looked very heavy handed, very smart, very talented and like a potential star in the making. The big question, as it is with a lot of these super prospects, is whether his team can both challenge him and develop him. If they can do that, then Sabirov may well find himself in the world rankings by the end of 2019, in title fights in the later part of 2020.

Rufat Hajiyev (4-0, 4)

It's not often that we get to talk about Azeri fighters but Rufat Hajiyev is certainly worth talking about. The now 25 year old debuted in December 2017 and has taken out his first 4 opponents in a combined 6 rounds. His competition hasn't been particularly good, with all 4 of his bouts taking place in Georgia, but he has been taking care of business, and been stepping up his level of competition. Hopefully that continues in 2019. Sadly Hajiyev may be one of those fighters who just disappears, having never managed to secure the big fights he needs, but we really hope he isn't, and instead does get a chance to sink or swim.

Dieudonne Wilfred Seyi Ntsengue (2-0, 1)

One of the potential hidden gems at Super Middleweight isCanadian based Cameroonian 21 year old Dieudonne Wilfred Seyi Ntsengue. The unbeaten youngster was a former amateur stand out, winning a Gold medal at the 2015 African Games and a Silver medal at the 2018 Commonwealth games. He would also compete at the 2016 Olympics, though fail to make his mark at Rio. As a professional Ntsengue made his debut in Cameroon in 2017, before fighting in Canada last year and it now looks like he will be returning to a Canadian ring in the coming week, to really kick things off. He really could be the dark horse of the division and given his amateur background he is clearly worth keeping and eye on.

Muslimbek Olimov (2-0, 2)

The Uzbek's are certainly on the rise, and in 2018 a number of Uzbeks really left their mark on the sport with a serious of great displays. There isn't too many uzbek fighters at 168lbs worthy of note, though

Muslimbek Olimov seems to be one who is worthy of some attention. The heavy handed man from Fergana debuted in July and scored 2 opening round wins before the year was over. Hopefully his activity will pick up this year, and his level of competition also improves. What is worth nothing is that his debut came against a guy with a record of 13-4 (9) and that level of competition is rare for a debutant.
Powered by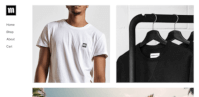 Create your own unique website with customizable templates.