Zhang Zhilei
When we talk about Chinese fighters we typically talk about smaller fighters, such as
Xiong Zhao Zhong
, Zou Shiming and
Can Xu
. There is however a number of Chinese Heavyweights who are looking to put their country on the boxing map. One those is
Zhang Zhilei
(19-0, 15) [张志磊], who is dubbed "Big Bang" and has proven himself as both an amateur and a professional. Sadly however at the age of 35 his career is running out of time and it's now becoming a case of whether Zhilei has ambition or not. If he does then there are huge fights out there for him over the coming few years.
Born in May 1983 in Shenqiu County, Henan Province, Zhilei was spotted when he was 13 years old, and already stood at 6 foot tall. The original hope from the Chinese sports bureau was for the teenager to join the rowing team. Just two years later the plan had changed, with Zhilei growing another 6" and filling out his frame, making him unsuitable for rowing. He was however suitable for boxing and transferred to the boxing team.
After only a few years of boxing Zhilei began to compete in competitions. In 2001 he managed to claim a tournament win in a small International Invitational competition in Romania, showing that he was a capable fighter at such a young age.
Over the years that followed Zhilei would build a real reputation in the unpaid ranks. He would claim a Chinese national title in 2003 before competing and compete at the World Championships, where he was eliminated by Poland's Grzegorz Kielsa. The following year, at the 2004 Asian Games in Puerto Princesa, Philippines, Zhilei managed to claim a bronze medal, claiming one of 3 medals for China at the competition. That essentially put him on the regional scene as an amateur Sadly though the success didn't lead to much success at the 2005 World Amateur Championships, where he would lose in his second bout to Odlanier Solis of Cuba.
Zhilei would go on to dominate the domestic scene over the following decade, winning the gold medal at the National Games of the People's Republic of China in 2005, 2009 and 2013.
---
Outside of China, on the international stage, Zhilei also had regular success, despite needing to miss out on the 2006 Asian games in Doha due to a serious injury to his right leg. After rehabilitation he came back stronger than he had been previously and in 2007, all healed up, he found himself picking up several major medals. In June of that year he won a bronze medal at the Asian Championships in Ulan Baatar before earning a bronze medal at the World Championships in Chicago, losing in the semi-final to Vyacheslav Glazkov. The World Championship performance saw Zhilei qualify for the 2018 Olympics in Beijing as China's representative at Super Heavyweight.

At the Olympics Zhilei would win his first two bouts with ease before getting a walk over in his semi final against Glazkov. That walk over saw Zhilei move into the final, where he would be dominated by Italian great Roberto Cammarelle, who stopped him in round 4 and left Zhilei with a silver medal. The silver medal for Zhilei saw him being 1 of 4 medal winners for China, along with Zou Shiming, Hanati Silamu, who now fights as Kanat Islam and Zhang Xiaoping.

With China not really embracing boxing Zhilei remained an amateur following the Olympics. The following year he claimed one of his biggest achievements, winning gold at the 2009 Asian Championships, where he defeated Ivan Dychko Seyed Akbar Hosseini and Sardor Abdullayev. The same year he would also claim a bronze medal at the World Championships, losing in the semi-final to Roman Kapitanenko.

Zhilei would chase a second Olympic appearance, looking to compete at the 2012 Olympics in London. Unlike the 2008 Olympics Zhilei failed to qualify through the World Amateur Championships in 2011, despite scoring a win over Joseph Parker, as he was eliminated in the preliminary rounds by Ivan Dychko. Zhilei would however manage to qualify for the Olympics by way of the Asian Olympic Qualifier in Astana, Kazakhstan. At the Olympics Zhilei was one of the hopefuls, given his bronze medal from Beijing but was beaten in his second bout by eventual gold medal winner Anthony Joshua.

After claiming a tournament win at the National Games of the People's Republic of China in 2013 Zhilei seemed to be done with amateur boxing, and in early 2014 he signed a professional contract with the fledgling Dynasty Boxing Promotions. He would make his debut under their banner in Augusst 2014 against Curtis Lee Tate, who seemed to want nothing to do Zhilei and went down from a shot that appeared to his his shoulder. It was a huge chance for Zhilei to shine, but instead turned into a farce.

Zhilei would be kept busy to begin his career fighting 5 times in 2015, including a fortunate decision win over Juan Goode who dropped Zhilei in the final round. The hectic activity continued in 2016, a year that saw Zhilei return to China to beat both David Koswara and Gogita Gorgiladze, and fight in the US, where he scored a notable win over Galen Brown.

Going into 2017 Zhilei had ran his record to 13-0 (9) and the Chinese southpaw had began to put his debut farce behind him. Sadly the new year kicked off with a new farce, as Australian Peter Graham was unable to give any sort of a test to Zhilei, who claimed the WBO Oriental Heavyweight title in 2 minutes and 58 seconds. The belt was the first of Zhilei's career and began a run of successive opening round stoppages, which currently stands at 6 straight opening stoppage wins.

In the ring Zhilei is a talented and heavy handed southpaw boxer-puncher. He has under-rated movement for such a big man and seems to live up to the "Big Bang" moniker pretty well thanks to his very heavy left hand. Sadly he's defensively flawed, has his hands low and has serious question marks about his chin, following the knockdown against Goode. For such a big man he does have good variety, and looks to have a nice array of shots, but his jab and straight are his bread and butter. Sadly at his age Zhilei really needs to go for it, and with a high WBO ranking we suspect that 2019 will be the year that he either jumps in with a fellow contender. If he doesn't there's a good chance he never will, which would be a huge shame.

Zhilei will never be good enough to be the best Heavyweight on the planet, but he's the type of fighter who can increase interest in the division in China, and potentially, help open up one of the biggest untapped markets in world boxing.

(Image courtesy of http://sports.163.com)
Powered by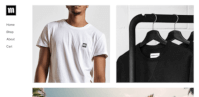 Create your own unique website with customizable templates.