Jayr Raquinel
When we look at the Filipino scene it seems like the country has a lot of talent rising through the ranks. These include guys like
Mark Anthony Barriga
, for whom big things were always expected, and
Edward Heno
, who battled through a very peculiar 0-0-3 start to his professional. Arguably the most under-the-radar of those rising hopefuls is 21 year
Jayr Raquinel
(10-0-1, 7) who despite being the OPBF Flyweight champion is very much an unknown to many fight fans and hasn't had much in terms of television exposure. Despite that he has been impressive and his last two performance really do deserve a lot more attention than they've had.
Raquinel made his professional debut on March 31st 2014, less than 2 months after his 17th birthday, and really didn't need long at all to make an impression stopping fellow debutant Mark Cutara in 90 seconds as the Nasipit Gym. The card featuring Raquinel's debut was a really small one and he was one of 5 fighters to puck up an opening round win, impressive given there was only 6 bouts on the show.
The youngster would score his second win less than 3 months later, stopping the debuting John Paul Safera in 81 seconds. This was on another ill booked card at the Nasipit Gym, with 5 bouts, only one of which went beyond 2 rounds. Exactly 2 months later, on August 20th, Raquinel would score his third straight straight opening round win, stopping Rodante Suacasa in just 10 seconds.
Having fought for just 3 minutes and 1 second over his first 3 bouts Raquinel looked like a puncher but had questions to answer in regards to how he would cope when a fighter could take his power. Raquinel had a chance to answer that in October, in his 4th bout, as he took on fellow unbeaten Andro Debucas. This time Raquinel's power was the big difference maker, and instead he had to dig deep as he battled for a 6 round split decision win.
Normal service resumed in December when Raquinel blew out the experienced Michael Bastasa to end the year 4-0 (3). Sadly through his first 4 bouts very few fans had had the chance to see Raquinel and although it's understandable, given the fact he was a novice, he wasn't helped by the promotion of him which had him fighting on small cards with no real headline bout.
---
Thankfully in May 2015 Racquinel faced his first opponent of real note, the then 7-1-1 Jimboy Haya. Whilst it was a step up in class it wasn't a memorable bout, with Haya tagging Raquinel low on a regular basis, being deducted a point in round 2 for them before being disqualified the following round when he continued to go low.

Sadly Raquinel wouldn't build on that win in a way that many would have hoped. Instead he would be out of the ring from that win, in May 2015, to February 2017 when he returned to face Glenne Calacar in a bout for the LuzProBA Light Flyweight title fight. Although Calacar is a bit of an unknown himself he had come into this bout with a 3-1-5 record and had notably held Ronnie Baldonado to a draw. That tough to beat mentality of Calacar showed again as be fought Raquinel to a split decision draw over 10 rounds. We do have to wonder what result Raquinel could have had had he not had 21 months out of the ring, but a draw with Calacar is certainly nothing bad.

After such a long break between the Haya and Calacar fights it was good to see Raquinel only take 3 months out before taking on Elmer Liboon. Sadly though Liboon would be the next fight totally unable to take the power of Raquinel, who scored his 5th career opening round win. Proving that he was still very dangerous early on.

In October 2017 Raquinel would claim his first title, as he took a majority decision win over Richard Rosales for the OPBF Silver Flyweight title. It was a closer bout than Raquinel would have wanted, though saw him answering questions about his mentality and stamina. He was in with a fighter who took his power but proved he could still come out on top, and scored what was then his most significant win.

The win over Rosales saw Raquinel become the leading contender for the main OPBF title, which was then held by Japanese fighter Keisuke Nakayama. Nakayama had won the title in June, with a razor thin decision win over Richard Claveras, and had made one defense, a split decision draw against Joebert Alvarez. With the two narrow wins in title fighters Nakayama knew he would need a big performance to really solidify his reign. Raquinel however knew this was a great chance to make his mark and claim a hugely significant title.

Raquinel pressure Nakayama early, showing no fear of the Japanese crowd whilst chipping away at the champion who started to have success in the middle rounds. Despite some moments for Nakayama it always looked like Raquinel was the more talented and stronger fighter. He went on to prove he was also the bigger puncher in round 9 when he caught Nakayama with some brutal head shots that sent the defending champion down. Nakayama would, some how, get to his feet but was unable to beat the count as Nakayama claimed the OPBF gold.

In his first defense the Filipino youngster returned to Japan to defend the belt against Shun Kosaka, the runner up of the 2014 All Japan Rookie of the Year at Flyweight. Raquinel would out box Kosaka through much of the first 3 rounds before dropping the challenger with a peach of a counter left hand. Kosaka stumbled whilst rising to his feet forcing the referee to save the local and give Raquinel his second big win on Japanese soil.

At the time of writing Raquinel is scheduled to return to action in September, for a bout in Changsha, China, against Wulan Tuolehazi for the WBC silver Flyweight title. That looks like another tough ask for Raquinel, on the road again, but a win here should see him move to within touching distance of a WBC world title fight. At the moment it'd be hard to imagine him dethroning Cristofer Rosales, but Raquinel certainly looks like a fighter with the potential to win a world title down the line. At the age of 21 he just needs a bit more seasoning but certainly has the skills, the natural power and the confidence to go all the way.

In the ring Raquinel is an aggressively minded southpaw. He can box or bang, and although we've yet to see him really put under pressure he does look like a natural in the ring, who can fight going backwards or going forwards. His defense needs a little bit of work, as does the mental aspect of his game, as he has turned off at times during fights. If he can work on those he really could end up being the proverbial diamond in the rough at Flyweight.

​We just hope his team can keep him active and can keep developing his skills. He's a real natural and a real talent worthy of nurturing.

(Image courtesy of boxmob.jp)
Powered by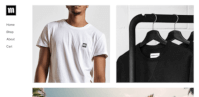 Create your own unique website with customizable templates.