Hiroshi Kawashima
The Super Flyweight division has been one of the most notable in Japan in recent years, with fighters like
Nobuo Nashiro
, Kohei Kono,
Yota Sato
, Daiki Kameda and
Naoya Inoue
all making a mark there. Back in the 1990's there was also a series of very notable Japanese fighters picking up world titles at the weight. They include the likes of Katsuya Onizuka,
Satoshi Iida
, Hideki Todaka and
Hiroshi Kawashima
(20-3-1, 14), the latter of which is the focus of this profile.
Born in Tokushima City in 1970 Hiroshi Kawashima was the younger brother of Shinobu Kawashima, who was 5 years older than Hiroshi. Shinobu had made his professional debut in 1983 and would go on to fight Soon Chun Kwon for the IBF Flyweight title in 1985, losing by knockout to the Korea, before ending his carer with a loss to
Satoshi Shingaki
.
Given his older brother's career, despite how short it was, it was little surprise to see Hiroshi also take up the sport, and he also showed a lot of early promise whilst fighting as an amateur. He would go 27-3 (15) in the unpaid ranks, and win an inter-high school tournament in the late 1980's, beating Takato Toguchi, who would later fight as Puma Toguchi, in his final bout of the tournament.
---
With notable amateur success Kawashima signed up with the Yonekura Gym, in 1988. The Gym, which closed in 2017, had nurtured a number of champions prior to Kawashima joining it, including the likes of Kuniaki Shibata, Guts Ishimatsu and Shigeo Nakajima, and it seemed like Kawashima would want to be seen up there with those former world champions. He also joined a stable that also had, at that time, the hugely popular

Hideyuki Ohashi

making his mark having twice fought for world titles.

Kawashima would make his debut in August 1988 and score an opening round KO win to begin his career. In fact he would stop his first 3 opponents, before facing off with Puma Toguchi, who Kawashima had beaten in a High School final. Sadly for Kawashima he would be stopped by his former amateur foe in 6 rounds in what was the East Japan Rookie of the Year final. Kawashima would bounce back from that loss with a win over Tomoo Matsumoto but would suffer another early loss being taken out in a round by Mitsuo Kawashima.

Have gone 4-2 (2) in his first 6 bouts expectations were taken from Kawashima's shoulders. He however knew what he had to focus on to be a success, and that was improve his defense, be hit less and build on that part of his game. Sadly his first fight with his changed mentality ended in a draw with Chong Pil Kim, in an 8 round bout. What was just as notable as the result was the fact Kawashima had moved up in weight, and was now fighting as a Super Flyweight, the weight he would become synonymous with. Thankfully Kawashima would get back into the swing of things, and score stoppage wins over Kazuma Saeki, Sung Kyu Kim and Allan Tanaka following the draw with Kim.

Sadly the win over Allan Tanaka, in January 1991, saw suffer a fractured left hand in the bout. That was a particularly notable issue, given he was a southpaw. The injury was a recurring one, and resulted in Kawashima being out of the ring for over a year. When he finally returned he did so in a relatively straight forward bout against Hak Myung Kim, who was stopped in 3 rounds.

In July 1992, less than 4 years after his debut, Kawashima would get his first title show, facing off with Japanese Super Flyweight champion Hideki Koike. Coming into this bout both men had puncher's reputations, with Koike being 10-1-1 (8) and Kawashima being 8-2-1 (8). Interestingly both had questionable chins, with all 3 combined losses coming by stoppage. Amazingly this bout actually go the distance, with Kawashima taking a 10 round decision win to claim his first title.

Kawashima would go on to make 3 defenses of the title, defeating Tatsuya Sugi, Tatsuya Akatsuki and Kenji Matsumura all by stoppage. Those wins moved Kawashima towards a world title fight, especially the one over Matsumura who had challenged for world titles on 4 different occasions. Aftwer those 3 defenses Kawashima would then go on to stop Korean foe Kao Chul Choi to help keep busy whilst waiting for his shot at the WBC Super Flyweight title.

On May 4th 1995 Kawashima would get his shot at the title, then held by Jose Luis Bueno. Kawashima would score an 11th round knockdown of the Mexican, in the final seconds of the round. That knockdown proved crucial in an incredibly close bout that saw the Japanese fighting winning by 1 point on a card and 2 points on another.

In his first defense of the world title Kawashima faced off with mandatory challenger Carlos Gabriel Salazar, who had previously challenged

Sung Kil Moon

and Sot Chitalada. Salazar would prove he was world class, despite losing a very competitive decision to Kawashima. This win became an even better one on reflection as Salazar would later go on to claim the IBF Super Flyweight title and the WBO Flyweight title, making him a 2-weight champion after losing to Kawashima.

Kawashima's second defense would come in a rematch against Bueno. Again Kawashima would score an important knockdown, dropping the challenger in the 7th round. Bueno would recover from the knockdown but go on to lose a clearer decision to Kawashima this time around. This bout had been a really emotional one for the Japanese fans following an earthquake just a day earlier, and prayers were had before the fight and the win for Kawashima was huge for the cans.

In his third defense Kawashima took on Seung Koo Lee, who had given the then WBA champion Katsuya Onizuka real problems in 1994. Many felt Onizuka had gotten a gift decision over Lee and Lee was should have been the WBA champion. Despite that he was proven to be the lesser man against Kawashima, who took a clear, yet competitive, win over the Korean.

Having scored 4 straight decision wins Kawashima's punching power didn't appear to be cutting it at world level. That however proved to be false when he took on Indonesian foe Boy Aruan, in what we're informed was the first ever world title bout between Japanese and Indonesian fighters. The started slowly, with little happening in the first 2 rounds. In round 3 Kawashima picked up the pace, and twice dropped his man with the referee waving off the contest after the second knockdown.

Kawashima was really coming into his own by now and would take on his next mandatory challenger in April 1996, against Cecilio Espino. The bout looked really interesting on paper but turned out to be a mismatch, with Kawashima giving Espino a boxing lesson over 12 rounds. Had Espino not been such a tough guy he would almost certainly have been stopped here. Sadly for Espino the bout essentially hastened his retirement, and he would fight against until 13 months later, losing by knockout to Mark Johnson in his only bout after this.

Domingo Sosa was next for Kawashima and he would suffer a similar fate to Boy Aruan, and would be stopped in the second round. Sosa gave things ago but struggled to land cleanly, and when he did land clean the shots were slapping and cuffing blows, rather than real punches. Sosa's challenged ended in the second round, when Kawashima moved through the gears and unloaded on Sosa, who was trapped on the ropes. The challenger didn't like the stoppage, but had done little to return fire on Kawashima who was landing at will.

Kawashima would hunt a 7th defense in early 1997, though lost a razor thin split decision to Filipino great Gerry Penalosa. There was very little to separate the two men, with both fighters getting a 115-114 scorecard in their favour, but Penalosa took the decided card with a score of 116-112, to end Kawashima's reign.

After the bout Kawashima retired, due to issues with his eyes. His record was 20-3-1 (14) at the time that he hung up the gloves, and he had developed a reputation as being a very skilled and defensively intelligent fighter. In retirement he would remain a key figure in Japanese boxing, not only working as a commentator but also setting up the Kawashima Gym, which has been around since 2000 and slowly developed a reputation as a very solid gym, even if it is yet to really make it's mark on the sport.

Although less popular than the likes of Katsuya Onizuki and

Joichiro Tatsuyoshi

we did see Kawashima have a solid fan following and he was regarded by many as more technically sounded than both Onizuka and Tatsuyoshi. He was regarded as a smart fighter, and due to his defensive skills he was dubbed "Untouchable". Given how he was stopped twice early in his career, his turn around was remarkable, going 16-1 after a less than great 4-2-1 start to end up with a really respectable record. A very talented, if often forgotten fighter.

(Image courtesy of the Kawashima Gym)
Powered by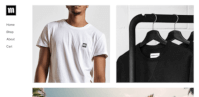 Create your own unique website with customizable templates.