The Fuji TV broadcast kicked off with Olympic medal winner

Ryota Murata

(6-0, 4) who took on American fighter

Jessie Nicklow

(24-5-3, 8) in what was widely viewed as a complete mismatch.

In the early stages it looked like the bout was going to be a lot more competitive than many had suspect with Nicklow coming to win and giving Murata plenty to think about . By the end of the round however Murata was beginning to to find his range and land some lovely shots to both head and body, they weren't discouraging Nicklow but they were connecting and they did look to be heavy shots.

The determination of Nicklow was seen again in round 2 though by the end of the round it did appear that Murata had began to go through the gears and was landing almost at will and finding holes in the defense of Nicklow. As Murata became more successful Nicklow's work rate dropped and the American was being kept behind his guard whilst looking to land one punch and cover up.

In round 4 we saw a small clash of heads though Murata continued to land all the notable shots as he did through round 5 though it did quickly become clear that he was very much a fighter who was trying to change himself as a fighter. The Murata from the amateurs was a pure pressure fighter but this Murata, he was a man trying to be a boxer and it showed that it wasn't his natural style with his footwork in particular looking horrible.

Sadly for Murata a clash of heads in round 6 resulted in a nasty cut over his left eye. The headbutt seemed some what deliberate with Nicklow clearly leading with his dome and it seemed like it pissed off Murata who began to let his punches flow with vicious intent. The intent however died down somewhat the following round as Murata got back to moving, clumsily, and trying to work off his jab, it again looked foreign to him. In the 8th round Murata's domination continued as Nicklow tried to taunt and tease Murata into getting wreckless, the Japanese fighter however showed great restraint and picked his own moments to attack as he continued to win rounds.

In round 9 we saw Murata continuing to box and move though finally, in round we got a glimpse of Murata the fighter as he stood and unloaded on Nicklow. It was the explosive punching that made us all love Murata as an amateur, unfortunately was only a glimpse of that Murata, but enough for us to know that he still has that in his system.

Although he got the win, in the end, this didn't appear to be a great performance from Murata. Be it a change in his style or something else Murata didn't look much like a world champion in the making. Part of that was to do with Nicklow who was, to his credit, game, tough and and knew how to defend himself, though Murata needs to get back to what he is good at, fighting not boxing.

For what it's worth the win was a clear one with scored of 100-90, twice, and 100-91. The result was a good on even if the performance wasn't.
Powered by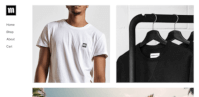 Create your own unique website with customizable templates.